Past Events:
The Road to Silicon Valley: A Journey for Veterans
Join us for our upcoming virtual webinar, in collaboration with SODA Social,
where we will be exploring how ex-military personnel have made
their mark in the digital landscape, discussing career pathways and best practices.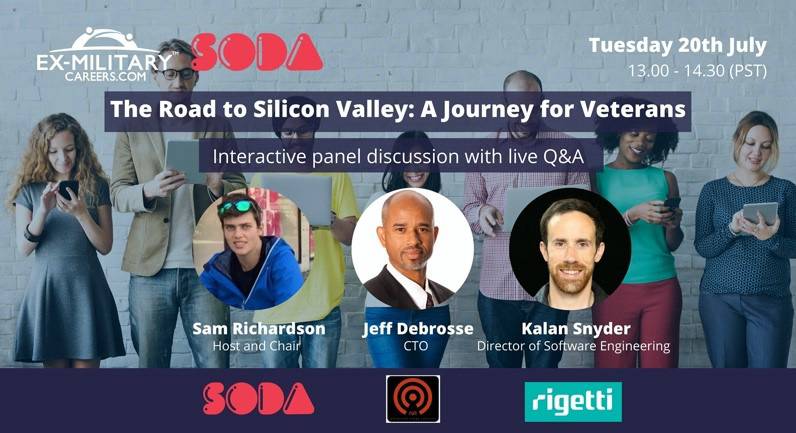 With a variety of different ways to enter the digital landscape, you can expect an insightful panel discussion highlighting personal career experiences, challenges, as well as obstacles of transitioning and upskilling. Expect to hear some inspiring anecdotes from our panel, highlighting personal career choices and decisions that have helped shape their career today.

Following the panel discussion, expect a live Q&A session where you can be a part of the conversation. We will also be hosting an additional networking session, where we plan to continue the conversation and address any further burning questions.
The Road to Wall Street: A Journey for Veterans
We hosted our second Ex-Military Careers webinar, 'The Road to Wall Street:A Journey for Veterans,' in collaboration with Broadgate Search Social. We explored how ex-military personnel have made their mark in financial services, discussing career pathways and best practices.
The panel discussed the transition period from leaving the military, and how a tighter focus on soft skills was required. Christopher Gerda advised our panel that listening and having empathy is key, and by enabling yourself to do this, you will 'rise up' as a leader in your organisation.
With hybrid models of working becoming the norm, James Ferguson, MBA reflected on his transition to home working this past year. By implementing an agenda for each day, he was able to make healthier decisions that were enriching as well as mentally stimulating. We also spoke about connecting with others virtually, particularly through LinkedIn groups and University veteran centres.
Our audience were keen to understand how exactly they can make themselves 'marketable' within the financial services sector. Chris explained how ex-military personnel 'already are' highlighting the synergies between actions taken in the military and financial services, concluding that in an interview situation, you will be able to find actionable responses to anything that may be asked. Derek L. added that it is important to take note of this information by creating a financial services resume; translating skills into a civilian language.
We'd like to thank our expert panel for all their insights, as well as our audience, who joined us on both Zoom and LinkedIn live. If you weren't able to join us, check out our video footage:
Ex-MilitaryCareers.com currently run relaxed, informal and free networking events in Manchester and London. If you are leaving or have left the Services (Navy, Army or RAF) or alternatively want to support those that are leaving/have left, you are welcome to attend. Networking is an essential aspect of resettlement and continued career success. Invite friends or associates along too and feel part of something again. All you need to bring is a business card and an open mind.
Our events are intended to provide Service leavers with the opportunity to learn more about businesses of all sizes, and the breadth of opportunities within the UK's technology, Fintech, Recruitment and Cyber sectors. We will also provide hints and tips on recruitment processes, CV and social media advice, and help you understand what businesses look for in candidates.